August 24, 2017
Cara Mengatasi Blue Screen dan Penyebab Blue Screen pada Windows

Pengguna Windows pasti sering mendengar adanya komputer atau laptop yang terkena Blue Screen of Death atau BSOD lebih terkenalnya. Seluruh pengguna Windows mungkin tidak ingin BSOD terjadi pada komputernya. BOSD terjadi karena adanya software atau hardware yang crash sehingga membuat sistem kena restart. BSOD tidak seperti komputer hang yang masih boleh diatasi dengan tidak perlu restart komputer.
Apa Penyebab Blue Screen of Death Pada Windows??
Penyebab Blue Screen of Deat (BSOD) biasanya disebabkan adanya masalah dengan hardware atau software driver pada komputer kamu. Software biasa tidak akan menyebabkan komputer kamu mengalami masalah seperti ini. Penyebab Blue Screen disebabkan oleh masalah hardware atau software dengan tingkat rendah yang berjalan di kernel Windows. Blue Screen terjadi ketika Windows bertemu dengan Error STOP sehingga terjadi kegagalan yang menyebabkan Windows crash dan berhenti bekerja. Satu-satunya yang dapat dilakukan Windows pada waktu itu hanyalah restart.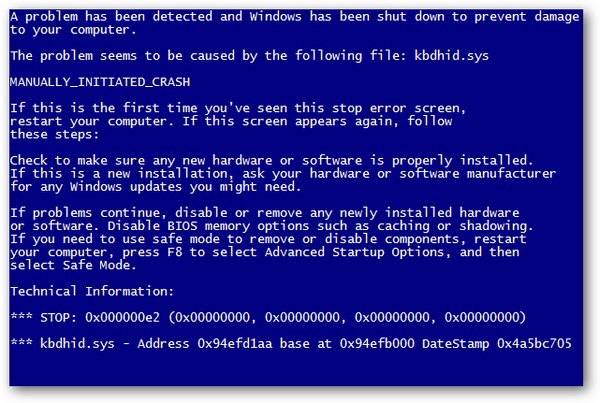 Jika kamu sedang mengerjakan kerja lain yang sangat penting dan Blue Screen terjadi maka kamu akan kehilangan data. Kamu tidak memiliki kesempatan untuk menyimpan data karena Blue Screen tiba-tiba akan terjadi dengan cepat dan membuat komputer kamu restart.
Ketika Blue Screen terjadi, Windows secara automatik akan membuat Minidump yang menampilkan informasi tentang crash yang terjadi dan menyimpannya di dalam hardisk kamu. Dengan menggunakan minidump, kamu dapat memperbaiki penyebab terjadinya Blue Screen.
Bagaimana Cara Mengatasi Komputer Restart Tiba-tiba Saat BSOD??
Secara default, Windows akan melakukan restart setiap komputer terkena Blue Screen. Jika komputer mati tanpa alasan yang jelas mungkin itu Blue Screen. Ini benar-benar hal yang sangat menyebalkan, apalagi ketika kamu sedang mengerjakan tugas penting. Namun ada caranya untuk mengatasi komputer tiba-tiba restart ketika Blue Screen. Caranya mudah sekali, kamu cukup membuka System Security>System dan klik Change settings dibagian computer name, domain dan workgroup settings. Setelah itu pilih tab Advanced Settings pada Startup and Recovery. Kemudian hilangkan centang pada Automatically restart.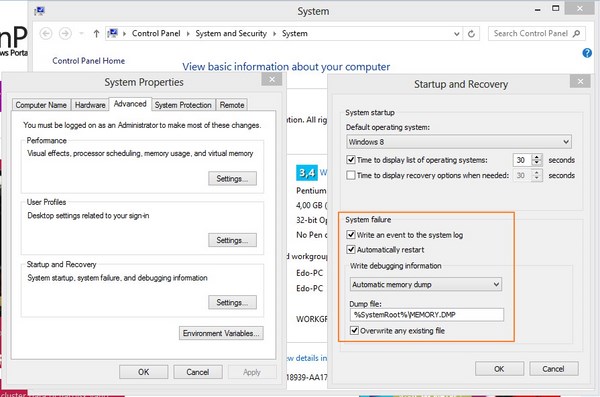 Bagaimana Cara Melihat Penyebab BSOD??
Untuk dapat melihat penyebab Blue Screen yang terjadi pada komputer kamu, ada dua cara. Pertama kamu boleh menggunakan software dari NirSoft's iaitu BlueScreenView dan menggunakan Windows Event Viewer. Kedua cara ini akan melakukan pencarian file minidump yang dibuat Windows ketika Blue Screen selain itu juga akan menampilkan crash yang terjadi pada Windows.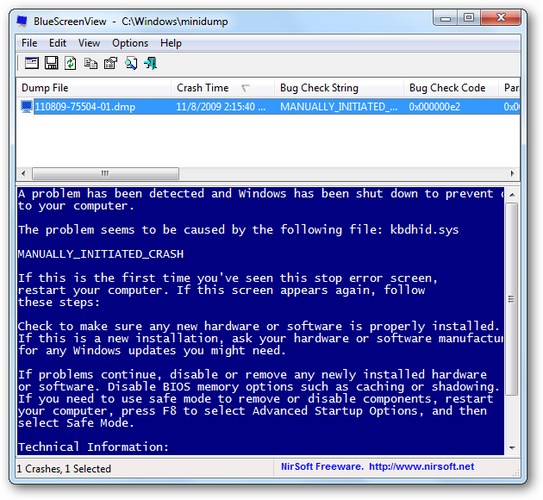 Cara Mengatasi Blue Screen Pada Windows

Pada Windows 7 atau Windows versi terbaru, informasi Blue Screen ditampilkan di Action Center. Jika kamu pengguna Windows 7 atau Windows versi terbaru, kamu dapat membukanya dan mengklik Check for Solutions pada menu maintenance. Ini akan membuat Windows memeriksa penyebab Blue Screen dan berbagai error lainnya yang terjadi pada komputer kamu. Dengan begini kamu sudah dapat mengatasi Blue Screen.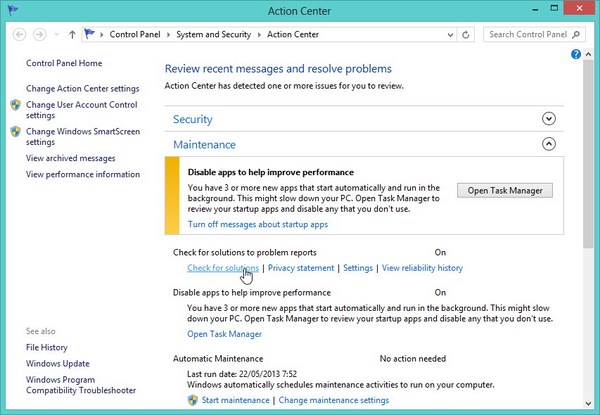 Berbagai Cara Mengatasi Blue Screen Pada Windows

Cara diatas adalah salah satu cara mengatasi Blue Screen yang terjadi pada Windows 7, berikut ini ada beberapa cara lain untuk mengatasi Blue Screen.
System Restore – Jika Blue Screen baru saja terjadi pada komputer kamu maka sebaiknya kamu menggunakan System Restore untuk mengatasinya. Ini akan membuat komputer kamu kembali ke keadaan sebelumnya. Kalau system restore ini berhasil maka kemungkinan Blue Screen terjadi karena kesalahan software.
Scan Malware – Malware yang menembus jauh ke dalam Windows apalagi jika sampai di kernel Windows sebuah tingkat dimana hal paling rendah di Windows dapat menyebabkan tidak stabilnya sistem. Solusi untuk mengatasi ini dengan melakukan scan antivirus terhadap malware.
Install Update Driver – Sebuah driver yang salah install atau tidak diupdate dapat menyebabkan crash. Download driver terbaru dari perusahaan hardware komputer kamu, mungkin ini akan memperbaiki masalah BSOD.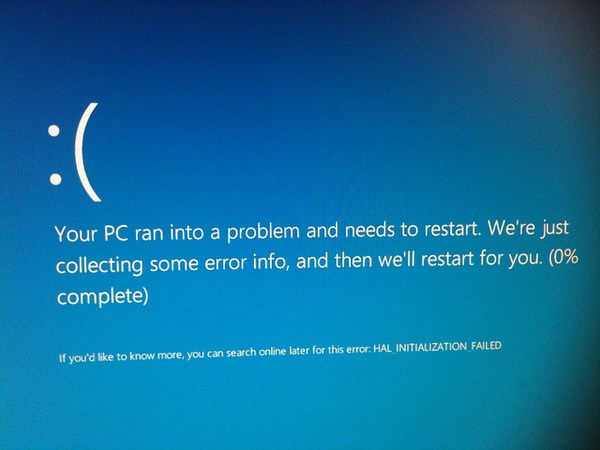 Boot ke Safe Mode – Jika komputer kamu mengalami BSOD ketika dinyalakan, kamu boleh masuk ke Safe Mode. Pada Safe Mode, Windows hanya mengambil driver-driver yang penting. Jika kamu salah menginstall driver yang menyebabkan BSOD, dengan Safe Mode kamu dapat menguninstallnya.
Periksa Masalah Hardware – Blue Screen dapat terjadi ketika kegagalan hardware terjadi dari komputer. Caranya dengan mengetikkan Memory Diagnostics Tool pada Start Menu atau mungkin komputer kamu terlalu panas dan kekurangan fan.
Install Ulang Windows – Ini adalah pilihan terakhir yang boleh kamu lakukan adalah menginstall ulang komputer kamu. Dengan cara ini, sistem akan terbangun dari awal dan tidak akan ada kerusakan. Jika kamu tetap mengalami Blue Screen berarti permasalahannya ada di hardware.
Sebuah komputer yang jarang sekali muncul Blue Screen misalkan saja dua tahun sekali, ini bukan masalah yang harus kamu takutkan. Namun bila komputer kamu sering sekali mengalami Blue Screen, sebaiknya kamu harus cepat mengatasinya.
via howtogeek
BAGAIMANA UNTUK MENGHUBUNGI SAYA
Tekan Gambar Di Bawah Untuk
Terus Wasap Saya